Collaboration Video with Wrappily #2 : DIY Flower Gift Basket
I'm excited to introduce #2 collaboration video I created with Wrappily, who offers chic gift wrap with an eco-friendly twist! The paper used for this episode made me smile when I first saw it. All of Wrappily's papers are reversible and it had charming birds & rabbits all over with a burst of blooming flowers as background on both sides of paper. (Enchanted Garden is the name of this paper)
The uniquely shaped flowers painted in vivid colors inspired me to bring fresh flowers to this project. I came up with a paper basket idea and fill it with plenty of colorful fresh flowers.
Although the video shows how to create a flower gift basket, you can pretty much fill the basket with anything you like. For example, you can create your own goody bags for a special event, fill it with snacks and small toys for a kid's birthday and create a baby basket for a baby shower. Sara, the founder of Wrappily has some creative ideas on how to enjoy this paper basket in her blog post: http://www.wrappily.com/blog/2017/7/2/versatile-diy-paper-basket
Since the basket is made with paper, make sure to place cellophane or other water resistant papers before placing your flowers. It is not meant to hold very heavy items. Make sure to hold the bottom while carrying and presenting the basket 😉
 
You'll receive 15% off your entire order on Wrappily's eco-friendly gift wraps during the month of July by using promo code PAPERGURU15 at checkout.
Video #1
Did you watch our collaboration #1 video, How to Make an Origami Crane Gift Box? Check out our video here: https://youtu.be/P4PozVc3GaE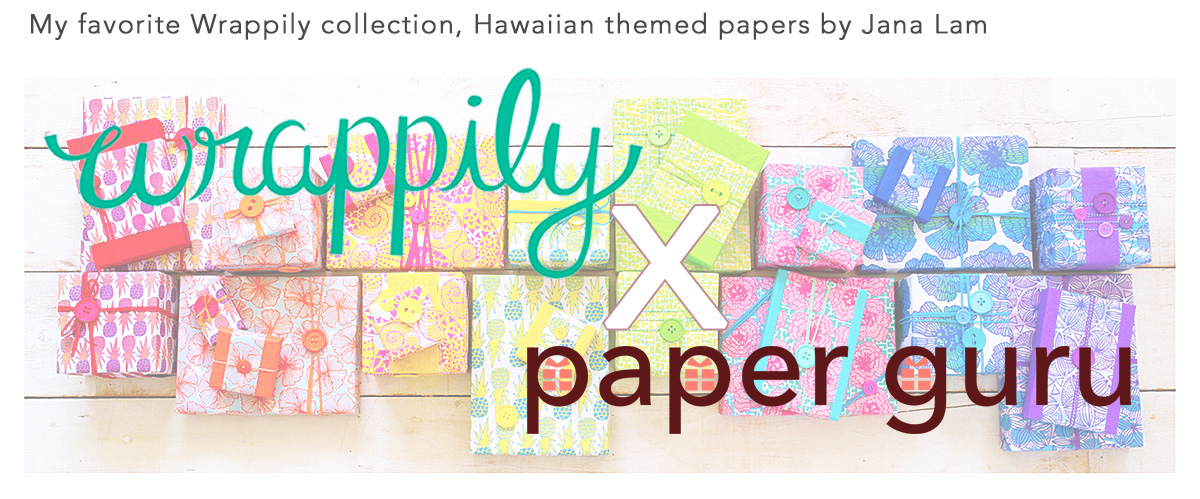 Our Collaboration
Wrappily is a paper company in Maui who utilizes old fashion printing presses to create eco-friendly wrapping papers. They work closely with designers from around the world for selecting patterns and print them on newsprint which can be recycled up to 7 times.
Upon communicating through emails few times, Sara and I finally met back in March 2017, I was inspired by her passion on producing beautifully designed papers while being eco-conscious about process of making them.
This collaboration came at the perfect time as I was also looking for unique and interesting papers for my upcoming gift wrapping projects. We plan on introducing new ideas every other month and there will be discount promo codes on Wrappily's selected papers.